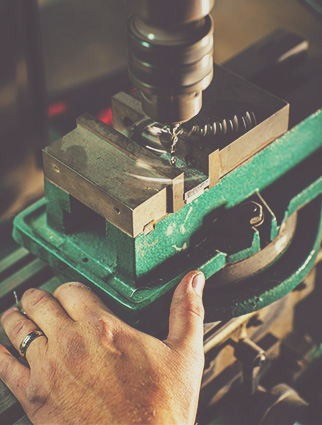 Step 1: Determine brand & model of knife.
Such as: Buck, Moore Maker, etc.
Step 2: Determine handle material.
We offer a wide variety of exotic handle material. Please call us if you do not see what you are looking for.
Step 3: Determine liner color.
We offer red, white, blue, green, black, yellow and grey for paper trim options. These can be used on folding knives as liners or as spacers for fixed blade knives.
Step 4: Determine spacer material.
We offer a wide range of spacer material options including many colors of reconstituted stone, non-ferrous metals, bone, horn, micarta, etc.
Step 5: Determine blade treatment.
We offer partial and fully chip flinted blades, mirror polished blades, bead blasted blades, satin finished blades and different styles of file work.
Step 6: Determine bolster treatment.
Our bolster treatment options include: polished, brushed, knapped and antiqued (Brass knives only).
You can select as many or as few of the above options as you wish on most knives.
If you don't see the option you are looking for please call and discuss with us.
All sales are final, this includes custom orders. Custom orders must be paid in full before work begins.